2022 Fall Combine

The Fall Combine will serve as the first ever CRFC event in the Fall Semester. This event will focus on identifying and highlighting the most technically skilled and effectively engineered robots in the Conference. Teams will compete in a series of Events pushing their robots to the limits to see who is the fastest, strongest, and most skilled! Teams' performance will be directly related to their rankings leading into the National Championship Tournament in the Spring. It will be hosted at the University of Notre Dame's Stepan Center on November 12th.
The Founding of Robotic Football
Robotic Football began in memory of Brian Hederman, for whom the trophy is named. Brian was a Notre Dame student who tragically died in a car accident while he was home for the summer between freshman and sophomore year in July 1995. Many friends and family, also impressed with Brian over the years, contributed to a memorial fund in his honor. Brian's family first asked that the University use those funds to provide scholarship.
In the early 2000s, Brian's father discovered a whimsical sketch by Brian of a robot football player. His Dad could not get rid of the image and began thinking about how that might provide a more memorable memorial to Brian. The result was a plan for creating robotic American-style football competition among U.S. engineering schools.
The idea was to create excitement around a favorite American obsession that could show the excitement of engineering accomplishments. Working with two other classmates from Brian's Dad's class at Notre Dame (Skip Horvath and Vince Cushing), they developed a plan for building an intercollegiate conference. Notre Dame arranged to shift a significant share of the original Memorial fund to now fund this Robotic Football National championship initiative. The winner of the competition wins the Brian Hederman Memorial Trophy.
The trophy was designed through a collaborative process of Brian's father and sculptor Thomas Marsh, with an emphasis on using Brian's original sketch as part of the design.
Today that sketch lives on as the centerpiece of the newest edition of the CRFC logo seen below! This logo embodies the cutting-edge, technology drive, forward thinking nature of the sport pointing towards the idea of a fully humanoid player while simultaneously pointing to the history that serves as the foundation of our great sport.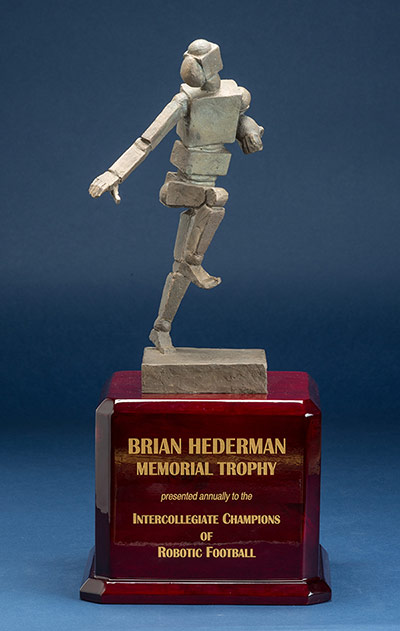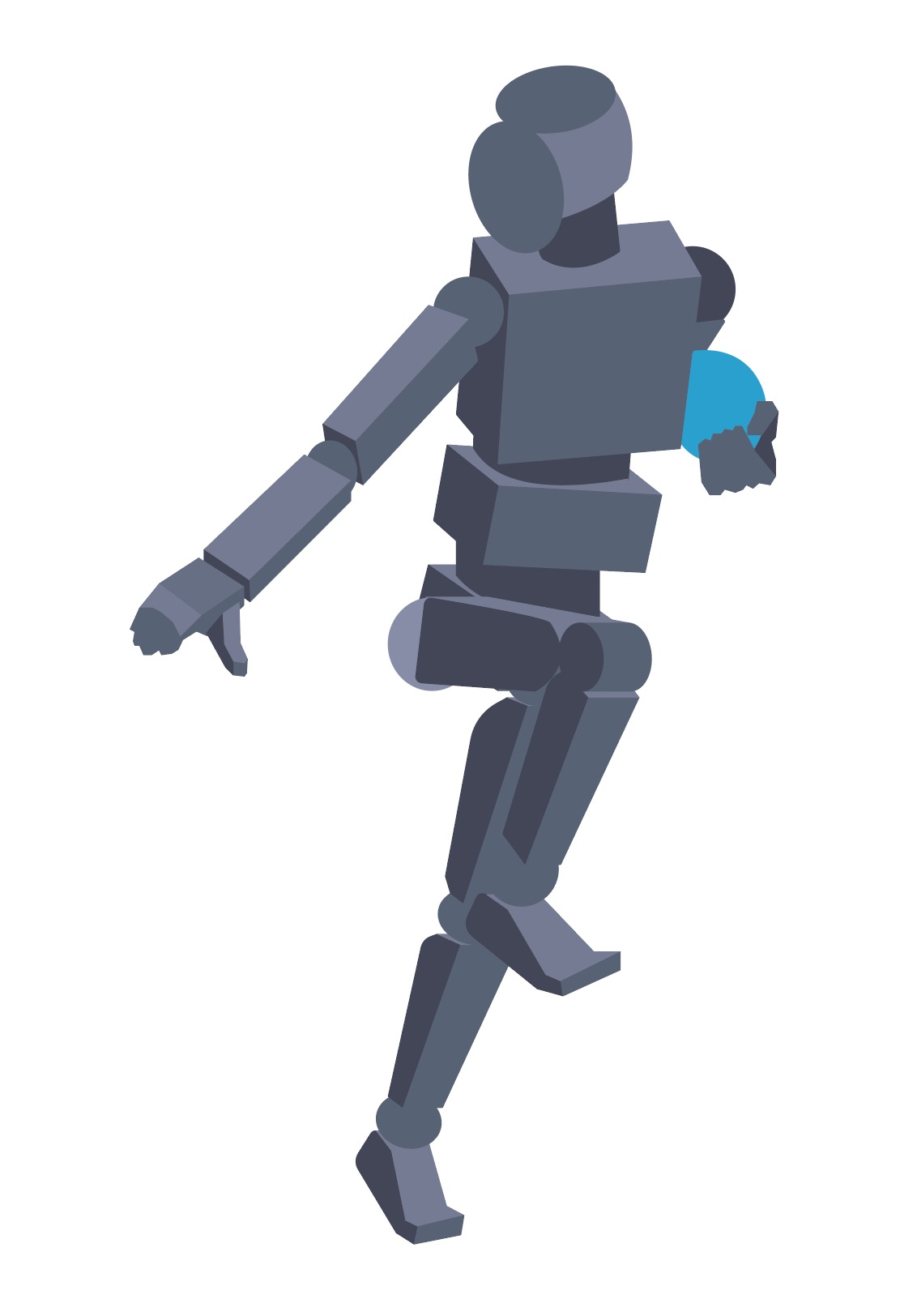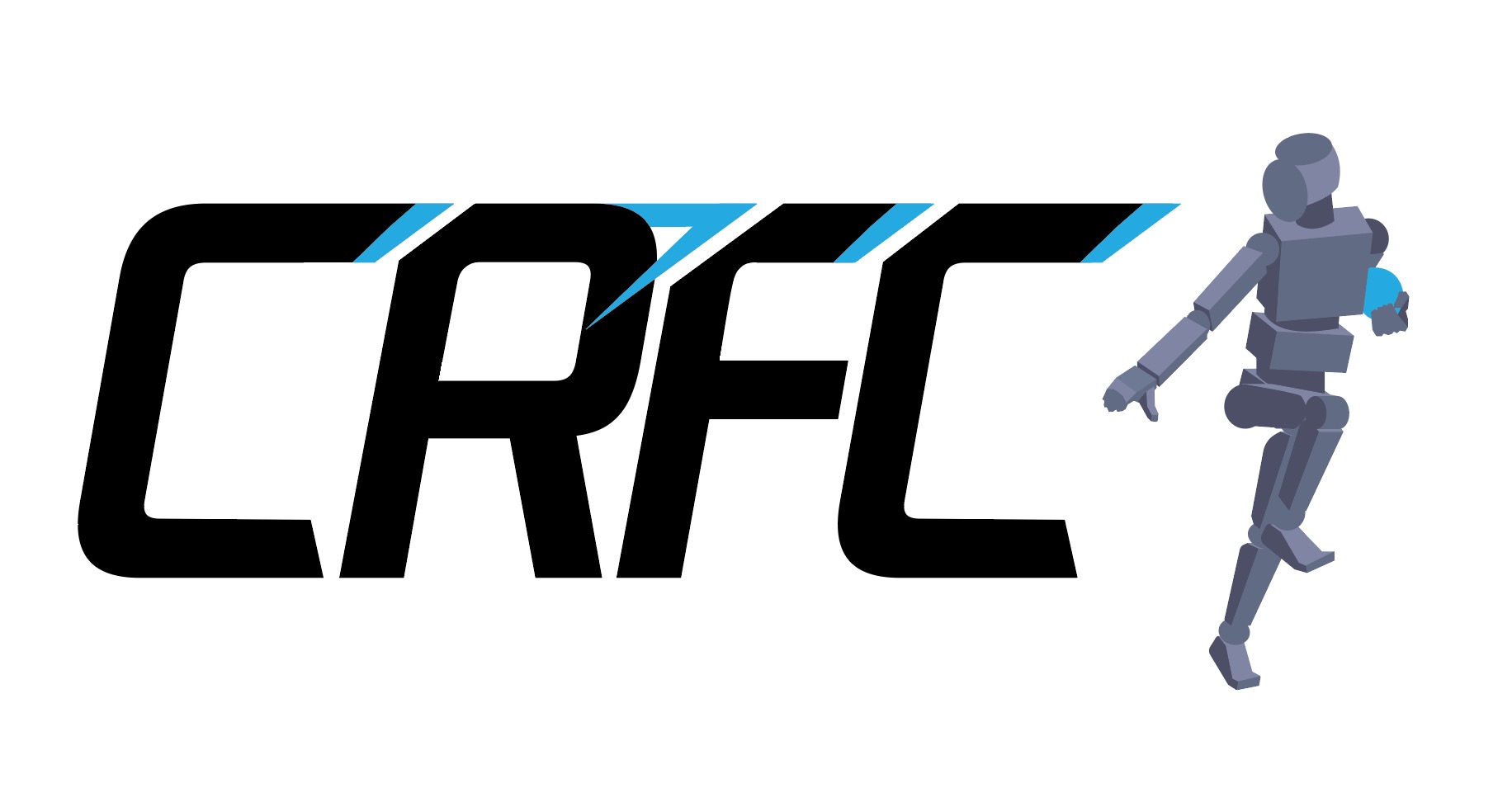 Robot Football has been growing since 2008, with several teams currently under development, and we are looking to further expand the number of participating programs.
Learn More
Next Steps...
If you're interested in learning more about the College Robotic Football Conference, please contact us today.